MP3-Download (25 MByte)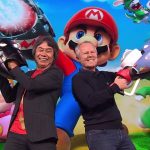 Heinrich begutachtete sechs Pre-E3-Pressekonferenzen im Live-Stream. Was hat ihn erfreut, amüsiert, genervt? Hört Euch sein Fazit in dieser neuen Folge unseres Bonus-Formats Spieleveteranen-Express an.
Im Einzelnen grantelt Heinrich über die Pressekonferenzen von Electronic Arts, Microsoft, Bethesda, Ubisoft, Sony und die PC Gaming Show. Darin geht es unter anderem um die Xbox One X, Remakes von Age of Empires, Shadow of the Colossus und Ubisofts neues Mario-Spiel.