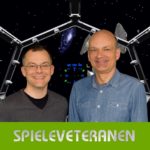 Das ist eine zusätzliche Episode für unsere Patreon-Unterstützer ab der $5-Klasse. Unter https://www.patreon.com/spieleveteranen erfahrt ihr, wie ihr das volle Programm hören könnt.
Das aktuelle Star Wars: Squadrons versucht an die glorreiche Simulationsvergangenheit von LucasArts anzuknüpfen. Die Spieleveteranen setzen sich lieber ins Cockpit eines TIE Fighter des Baujahrs 1994: Mick »Lord« Schnelle testete das Spiel damals für PC-Joker, heute plaudert er in unserer Podcast-Runde über heldenhafte Flugstunden. Warum war TIE Fighter deutlich besser als Vorgänger X-Wing, wie viel Spaß macht der Kampf gegen den Rebellenabschaum heute noch? Neben diesem »alten Spiel« erwarten euch aktuelle News, frische Spieleimpressionen und knackige Hörerfragen.
Spieleveteranen-Episode 43-2020 (#187)
Besetzung: Heinrich Lenhardt und Jörg Langer begrüßen Gastveteran Mick Schnelle.
Aufnahmedatum: 21.10.2020
Laufzeit: 1:27:32 Stunden
0:00:15 News & Smalltalk
0:02:29 Was haben wir zuletzt gespielt? Fantasy General 2: Empire Aflame, The Last of Us – Part 2, Baldur's Gate 3 und Legend of Grimrock.
0:10:47 Gemischte News: Der November wird voll, Epyx' Rogue wird neu aufgelegt, Analogue macht die Retrokonsole Duo, Ex-Blizzard-Echtzeitstrategen gründen Frost Giant Studios.
0:27:28 Die Hörerfragen zum Tage von Martin Kainz und Patrick Grosse.
0:32:47 Wir begrüßen Gastveteran Mick Schnelle.
0:33:52 Das alte Spiel: TIE Fighter
0:34:25 Das 1994 veröffentlichte TIE Fighter gilt als Höhepunkt der Weltraum-Simulationsserie von Larry Holland und seinem Team. Auf der dunklen Seite war die Star-Wars-Atmosphäre besonders packend.
0:50:49 TIE Fighter war der verbesserte Nachfolger von X-Wing, aber die Geschichte der Serie geht eigentlich auf Flugsimulationen wie Their Finest Hour: The Battle of Britain zurück.
1:01:32 Wie gut ist TIE Fighter heute noch spielbar, was ist unseren Testpiloten bei der Wiederbegegnung aufgefallen?
1:19:36 Historischer Pressespiegel und Spieleveteranen-Fazit.
1:26:26 Abspann