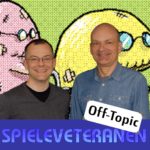 Spieleveteranen-Episode 5-2023 (#305)
Besetzung: Heinrich Lenhardt und Jörg Langer
Aufnahmedatum: 25.01.2023
Laufzeit: 1:43:39 Stunden
(0:00:15 News & Smalltalk – 0:46:14 Off-Topic)
Das ist eine zusätzliche Episode für unsere Patreon-Unterstützer ab der $5-Klasse. Hier erfahrt ihr, wie ihr das volle Programm hören könnt: https://www.patreon.com/spieleveteranen
Auf der Suche nach neuen Spieleindrücken durchkämmten Jörg und Heinrich die Wüste, gaben den Rennpferden die Sporen, taktierten auf der Switch und kämpften sich durch die Tiefen des kollektiven Unterbewusstseins. Die Woche bot auch wieder interessante Spiele-Neuigkeiten, sagt doch ein gewisser Geheimagent niemals nie zu einem Comeback. Die Hörerfragen markieren danach den Übergang zur Hauptattraktion dieser Folge: Es ist wieder Offtopic-Zeit! Hier müssen die Spielethemen draußen bleiben – es sei denn, es gibt rein zufällig eine aktuelle Serie zu einem wohlbekannten Pilzapokalypsen-Abenteuer. Außerdem erwarten euch unter anderem Besprechungen von zwei heißen Oscar-Kandidaten, ein deutscher Trip hinter Gitter, eine Mordserie im Umfeld von Edgar Allen Poe und eine beeindruckende One-Shot-Regiearbeit.
00:00:15 News & Smalltalk
0:02:04 Gemischte News: GoldenEye 007 kehrt auf Xbox und Switch zurück, Sony stellt das Launch-Lineup der PSVR2 vor und ein Vierbeiner wird zum Elden-Ring-Streamer.
0:13:09 Was haben wir zuletzt gespielt? Persona 3 Portable, Dune: Spice Wars, Fire Emblem Engage, Pocket Card Jockey: Ride on!
0:34:34 Hörerpost von N0Remors3, Patric Grosse und Andreas Wanda.
0:46:14 Spieleveteranen Off-Topic
0:46:22 Off-Topic-News: Schneeglöckchen, Kirschkernkissen und Tron 3.
0:50:48 Film-Ressort: Everything Everywhere All At Once, Banshees of Inisherin, Glass Onion, Athena, The Pale Blue Eye (Der denkwürdige Fall des Mr. Poe), Guillermo del Toro's Pinocchio, Bullet Train.
1:18:41 Musik-Ressort: Wrong Side of Paradise von Black Star Riders und eine musikalische Hörerfrage von Florian Zimmermann.
1:25:59 Serien-Ressort: Asbest, The White Lotus, The Last of Us.
1:41:12 Abspann.