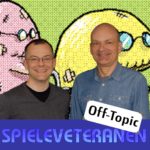 In diesem Sonderformat des Spieleveteranen-Podcasts plaudern Heinrich und Jörg über so ziemlich alles, was sie (außer Spielen) bewegt. Neue Off-Topic-Episoden werden exklusiv im Feed für Patreon-Unterstützer veröffentlicht. Schon mit $1 im Monat ist man dabei: Auf https://www.patreon.com/spieleveteranen findet ihr alle Vorteile.
Besetzung: Heinrich Lenhardt und Jörg Langer
Aufnahmedatum: 2.5.2019
Laufzeit: 1:02:28 Stunden
00:15 Der Mai ist gekommen, die Spieleveteranen sprechen sich aus.
08:30 Film-/Serien-Ressort I: Erster Trailer des Sonic-Kinofilms, seine Auswirkungen – und die Geheimnisse von Highway 19. Außerdem: Silicon Valley, Bosch, The Last Kingdom.
26:08 Buch-Ressort: Outside Looking In (dt.: Das Licht) von T.C. Boyle. SF-/Fantasy-Autor Gene Wolfe ist verstorben.
39:03 Peter Gabriels Soundtrack-Sammlung Rated PG und eine Würdigung seines dritten Solo-Albums von 1980.
41:30 Spoiler-Warnung! Ein letzter Plauder-Puffer für alle, die nichts über Game of Thrones hören wollen.
43:35 Film-/Serien-Ressort II: Unsere Kurzkritik der ersten Hälfte der letzten Game of Thrones-Staffel.