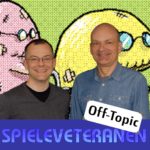 In diesem Sonderformat des Spieleveteranen-Podcasts plaudern Heinrich und Jörg über so ziemlich alles, was sie (außer Spielen) bewegt. Neue Off-Topic-Episoden werden exklusiv im Feed für Patreon-Unterstützer veröffentlicht. Schon mit $1 im Monat ist man dabei; auf https://www.patreon.com/spieleveteranen findet ihr alle Vorteile.
Besetzung: Heinrich Lenhardt und Jörg Langer
Aufnahmedatum: 7.10.2019
Laufzeit: 1:01:24 Stunden
00:11 Das Oktoberfest ist ein Schwindel und in Kanada beginnt die zweite Jahreszeit.
13:16 Musik-Ressort: Another State of Grace von Black Star Riders, Mark Knopfler live und ein Vorgeschmack auf den Death Stranding-Soundtrack.
20:01 Buch-Ressort: The Testaments (dt.: Die Zeuginnen) von Margaret Atwood und Tausend Zeilen Lüge von Juan Moreno.
42:00 Film-/Serien-Ressort: The Dark Crystal, Skylines und Disenchantment.