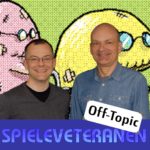 In diesem Sonderformat des Spieleveteranen-Podcasts plaudern Heinrich und Jörg über so ziemlich alles, was sie (außer Spielen) bewegt. Neue Off-Topic-Episoden werden exklusiv im Feed für Patreon-Unterstützer veröffentlicht. Schon mit $1 im Monat ist man dabei, auf https://www.patreon.com/spieleveteranen findet ihr alle Vorteile.
Besetzung: Heinrich Lenhardt und Jörg Langer
Aufnahmedatum: 4.11.2019
Laufzeit: 1:03:06 Stunden
00:10 Ausgeschlafen, frisch und munter enthüllen wir unsere Zeitumstellungspräferenzen.
06:40 Sport-Ressort: Jörg will unbedingt wissen, wie sich die Saison der Vancouver Canucks entwickelt.
09:34 Buch-Ressort: Sven Regeners Lehmann-Nachfolger »Wiener Straße«, Kate Atkinsons 3. Brody-Roman When will there be Good News (dt.: »Lebenslügen«).
13:16 Serien-Ressort: Narcos: Mexico, Midnight Diner: Tokyo Stories, See, Watchmen.
34:54 Musik-Ressort: From Out of Nowhere von Jeff Lynne's ELO, Sicily von Matthew Good.
40:48 Film-Ressort: John Wick 3, The Lighthouse, The King, Joker, Ad Astra.