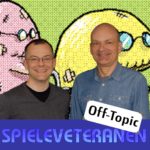 In diesem Sonderformat des Spieleveteranen-Podcasts plaudern Heinrich und Jörg über so ziemlich alles, was sie (außer Spielen) bewegt. Neue Off-Topic-Episoden werden exklusiv im Feed für Patreon-Unterstützer veröffentlicht. Schon mit $1 im Monat ist man dabei, auf https://www.patreon.com/spieleveteranen findet ihr alle Vorteile.
Besetzung: Heinrich Lenhardt und Jörg Langer
Aufnahmedatum: 3.12.2019
Laufzeit: 1:01:36 Stunden
00:11 Zur Adventszeit gibt es reichlich Plätzchen, Besinnlichkeit und irgendetwas rieselt eigentlich immer bei den Spieleveteranen.
04:24 Musik-Ressort: Erträgliche und weniger erträgliche Weihnachtslieder, Leonard Cohens letztes Album Thanks for the Dance.
15:40 Film-Ressort: Martin Scorseses neues Epos The Irishman hat das Zeug zum Adventsvierteiler, auch wenn der Regisseur das anders sieht. Außerdem Jörgs Japan-Geheimtipp Shoplifters.
33:58 Serien-Ressort I: Heinrich hat bereits Disney+ ausprobiert und erwärmt sich (nicht nur wegen Baby Yoda) langsam für die neue Star-Wars-Serie The Mandalorian.
43:35 Serien-Ressort II: 4 Blocks, The Crown, Mars und Jack Ryan.
58:34 Zum Abschied gibt's mit Christmas Time von Chris Hülsbeck der Saison angemessene Musik.