Podcast: Play in new window | Download (Duration: 1:38:49 — 90.7MB)
Subscribe: RSS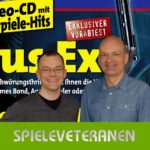 In dieser Episode geht zunächst der Cyberpunk 2077 ab, denn Jörg konnte das mit Spannung erwartete Rollenspiel einige Stunden lang ausprobieren. Nach diesen ersten Impressionen und einer Portion gemischter News stürzen wir uns dann in die Zeitschriften-Zeitmaschine. Wir blättern in 10, 20 und 30 Jahre alten Spielemagazinen und stoßen dabei auf eine Vielzahl berühmter (und auch berüchtigter) Oldies, von Deux Ex bis Daikatana.
Fühlt ihr euch stark genug, die Spieleveteranen wöchentlich zu hören? Dann unterstützt uns auf https://www.patreon.com/spieleveteranen
Spieleveteranen-Episode 25-2020 (#174)
Besetzung: Heinrich Lenhardt und Jörg Langer
Aufnahmedatum: 24.06.2020
Laufzeit: 1:38:49 Stunden
0:00:15 News & Smalltalk
0:00:35 Das heutige Programm.
0:06:04 Aktuelle Spielimpressionen von Cyberpunk 2077.
0:20:54 Gemischte News: Das lange verschollene 16-Bit-Spiel Ultracore von DICE ist jetzt erschienen, Curse of the Moon 2, Crash Bandicoot 4 und Star Wars: Squadrons wurden angekündigt.
0:28:20 Was haben wir zuletzt gespielt? Persona 4 Golden, Red Dead Redemption 2 und (schon in der Vorwoche) The Last of Us 2.
0:38:03 Zeitreise: Juni 2010, 2000, 1990
0:38:23 GameStar 7/2010 und GamersGlobal, u.a. mit Fallout: New Vegas, Alpha Protocol und Super Mario Galaxy 2.
0:55:41 GameStar 7/2000, u.a. mit Deus Ex, Daikatana, MDK 2 und Zukunftsprognosen von der E3.
1:18:16 Power Play 7/1990, u.a. mit Railroad Tycoon, Dragon Strike, Loom und Splatterhouse.
1:37:43 Abspann