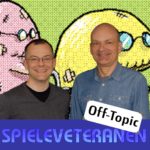 Das ist eine zusätzliche Episode für unsere Patreon-Unterstützer ab der $5-Klasse. Unter https://www.patreon.com/spieleveteranen erfahrt ihr, wie ihr das volle Programm hören könnt.
Die Gewitterwolken haben sich verzogen, Jörg hat seinen Umzug überlebt und die Jahresmitte- Plauderrunde kann beginnen. Einmal im Monat wildern die Spieleveteranen ungehemmt in anderen Kulturressorts und berichten über die Filme, Bücher und Tonträger, die sie in den letzten Wochen beschäftigten. Vor der Off-Topic-Runde gibt es wie gewohnt kurze Spielberichte und gemischte News-Meldungen – von der Fortsetzung des 1994-Adventures Beneath a Steel Sky bis hin zu Buddy, dem Alien-Mops.
Spieleveteranen-Episode 26-2020 (#175)
Besetzung: Heinrich Lenhardt und Jörg Langer
Aufnahmedatum: 3.7.2020
Laufzeit: 1:33:30 Stunden
0:00:15 Smalltalk
0:00:40 Jörg ist nach dem Büroumzug im Studio Putzbrunn angekommen, Heinrich kämpft noch mit der Schreibtischmontage.
0:10:30 Nicht zu vergessen: Das heutige Programm.
0:11:28 Gemischte News: Adventure-Nachfolger Beyond a Steel Sky bereits via Apple Arcade erhältlich, Crysis Remastered nach Trailer-Reaktionen verschoben, Gerüchte über eine »kleine« neue Xbox, Halo hat nen Alien-Mops.
0:23:03 Was haben wir zuletzt gespielt? Die Alpha-Demo des Remakes von System Shock, Persona 4 + 5, Total War: Warhammer 2 … und es gab einen Rückfall mit Assassin's Creed Odyssey.
0:36:54 Off-Topic
0:38:51 Verregnete Urlaubstage, konjunkturfördernde Ansagen und Unmut über Zensureifer.
0:50:22 Off-Topic-News: Fernsehserie zu Disco Elysium im Gespräch, Duncan Jones über ursprüngliche Pläne für Warcraft-Filmtrilogie.
0:53:58 Buch-Ressort: »The Room Where It Happened« von John Bolton, »Der Schatten des Windes« von Carlos Ruiz Zafón, Herbert Feuersteins Autobiographie »Die neun Leben des Herrn F.«, »Altered Carbon« von Richard K. Morgan.
1:11:59 Musik-Ressort: »Rough and Rowdy Ways« von Bob Dylan, »Shadow World« aus dem Soundtrack von Persona 4 Golden.
1:20:41 Film- und Serien-Ressort: »Eurovision Song Contest: The Story of Fire Saga«, »Da 5 Bloods«, »Knives Out«, »(500) Days of Summer«, »Upload«, »The Expanse«.
1:32:25 Abspann