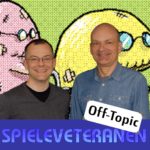 Das ist eine zusätzliche Episode für unsere Patreon-Unterstützer ab der $5-Klasse. Unter https://www.patreon.com/spieleveteranen erfahrt ihr, wie ihr das volle Programm hören könnt.
Bei unseren monatlichen Off-Topic-Episoden ist ohnehin schon Musik drin, für gesteigerte Klangkompetenz sorgt diesmal Stargast Chris Hülsbeck. Der Turrican-Maestro schaltet sich aus Arizona zu und gibt Einblicke in sein aktuelles Kulturprogramm. Wer sowohl Chris' Greatest Hits als auch seine neuen Werke hören will, wird bei seinem Patreon-Angebot fündig. Heinrich muss derweil das Ableben eines seiner musikalischen Helden verkraften, während Jörg die Satteltaschen für eine angedrohte Radtour packt. Oh, und ganz ohne Spiele geht es natürlich nicht: Zu Beginn der Folge gibt es wieder News und Kurzimpressionen, garniert mit feinen Hörerfragen.
Spieleveteranen-Episode 19-2021 (#215)
Besetzung: Heinrich Lenhardt und Jörg Langer begrüßen Gastveteran Chris Hülsbeck.
Aufnahmedatum: 05.05.2021
Laufzeit: 1:38:28 Stunden
0:00:15 News & Smalltalk
0:00:50 Das heutige Programm.
0:05:43 Gemischte News: Paul Cuisset arbeitet an Flashback 2, Baldur's Gate: Dark Alliance (2001) wieder erhältlich, beim Rechtsstreit von Epic und Apple kommen Interna ans Licht, Capcom lässt fürs neue Resident Evil die Puppen tanzen.
0:21:32 Was haben wir zuletzt gespielt? Resident Evil Village, Across the Obelisk und New Pokémon Snap.
0:34:06 Die Hörerfragen zum Tage stammen von Tobi und Christian Kohlheim.
0:43:26 Off-Topic
0:43:34 Wir begrüßen Gastveteran Chris Hülsbeck, der uns einen Update zu seinen wüsten Alltagsabenteuern gibt.
0:51:08 Musik-Ressort: Jan Blomqvist, Ludovico Einaudis Soundtrack zu Nomadland und eine Würdigung des verstorbenen Jim Steinman. Heinrich hat auch eine Spotify-Playlist auf Lager und empfiehlt die Classic-Albums-Episode zu Bat out of Hell.
1:23:19 Film-Ressort: Fukushima 50, Daughters, Ride or Die und Starship Earth, eine Dokumentation über Biosphere 2.
1:25:30 Buch-Ressort: Apollo von Charles Murray und Catherine Bly Cox, High Fidelity von Nick Hornby.
1:28:22 Serien-Ressort: Resident Alien, Snowpiercer (Season 2) und Ted Lasso.
1:37:05 Abspann