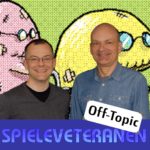 Das ist eine zusätzliche Episode für unsere Patreon-Unterstützer ab der $5-Klasse. Unter https://www.patreon.com/spieleveteranen erfahrt ihr, wie ihr das volle Programm hören könnt.
Zack Snyders neuer Zombie-Film ist nicht das erhoffte große Kulturereignis geworden, umso vortrefflicher kann man darüber lästern. Doch es ist nicht alles schlecht, was wir in den letzten Wochen geguckt, gelesen und gehört haben. Ganz ohne Computerspiele kommt auch diese Off-Topic-Episode nicht aus, denn das vorgestellte Sachbuch Press Reset beschäftigt sich mit dem Niedergang einiger namhafter Entwicklungsstudios. Zu Beginn der Sendung erwartet euch die übliche Mischung aus aktuellen Meldungen und Spielberichten, eine frische Hörerfrage darf da auch nicht fehlen.
Spieleveteranen-Episode 23-2021 (#219)
Besetzung: Heinrich Lenhardt und Jörg Langer.
Aufnahmedatum: 02.06.2021
Laufzeit: 1:39:32 Stunden
0:00:15 News & Smalltalk
0:01:03 Das heutige Programm.
0:02:16 Gemischte News: In der Gerüchteküche schmoren vor Beginn der E3 am 12. Juni z.B. Nintendo Switch Pro, Steam-Handheld und Starfield-Hoffnungen für die Pressekonferenz von Microsoft und Bethesda.
0:09:09 Was haben wir zuletzt gespielt? Eine Preview-Version von Humankind, das legendäre Mass Effect 2 und Days Gone.
0:28:47 Die Hörerfrage zum Tage von Andreas Wanda.
0:38:57 Off-Topic
0:39:06 Es wird sommerlich, die wieder erlaubte Außengastronomie bietet kulinarische Genüsse und Heinrich & Jörg haben so einige Off-Topic-Themen im Gepäck.
0:43:43 Serien-Ressort: Mythic Quest (Staffel 2), Vincenzo, Shadow & Bone, Mare of Easttown.
1:06:26 Buch-Ressort: Revelation Space (dt. Titel: "Unendlichkeit") von Alistar Reynolds, das Spieleindustrie-Sachbuch Press Reset von Jason Schreier, Breasts and Eggs von Mieko Kawakami.
1:23:06 Film-Ressort: Army of the Dead.
1:36:27 Musik-Ressort: Fatal Mistakes von Del Amitri.
1:38:27 Abspann