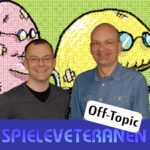 Das ist eine zusätzliche Episode für unsere Patreon-Unterstützer ab der $5-Klasse. Hier erfahrt ihr, wie ihr das volle Programm hören könnt: https://www.patreon.com/spieleveteranen
Passend zu unserem monatlichen Kulturprogramm meldet sich Jörg aus dem mobilen Spieleveteranen-Studio in Florenz, wo er nicht nur Schauplätze aus Assassin's Creed 2 begutachtet. Vor dem Off-Topic-Programm gibt es einen Blick auf die Spielewelt mit News und frischen Impressionen – darunter ein ordentlicher Verriss eines aktuellen Indie-Titels durch den wenig amüsierten Heinrich. Jörg zieht es hingegen ins globalstrategische Altertum, außerdem finden alle die Beta von Diablo II Resurrected vielversprechend. Auch im zweiten Teil des Podcasts schmuggeln sich Spielethemen ins Programm: Von RPG-Suchtbekämpfungstipps eines Schauspielers bis zur Kurzbesprechung des neuen Witcher-Animationsfilms erwartet euch ein buntes Programm.
Spieleveteranen-Episode 35-2021 (#231)
Besetzung: Heinrich Lenhardt und Jörg Langer.
Aufnahmedatum: 25.08.2021
Laufzeit: 1:32:59 Stunden
0:00:15 News & Smalltalk
0:00:43 Der Safe ist geknackt, die Show kann beginnen.
0:07:45 Gemischte News: Veröffentlichungstermin für Halo Infinite, die Quake Enhanced Edition restauriert einen alten Level, John Romero plant Sigil 2 auf Basis der Doom 2-Engine.
0:13:29 Was haben wir zuletzt gespielt? Twelve Minutes, Old World, Diablo II Resurrected (Open Beta).
0:32:04 Hilfreiche Hörer-Hinweise und die Frage zum Tage.
0:48:18 Off-Topic
0:48:40 Die Veteranen im September: Kultururlaub & Co.
0:57:05 Film-Resort: The Witcher: Nightmare of the Wolf, Baby Driver, Promising Young Woman.
1:12:11 Buch-Ressort: A Song for the Dark Times aus der John-Rebus-Reihe von Ian Rankin.
1:14:37 Musik-Ressort: Downhill from Everywhere von Jackson Browne, Pressure Machine von The Killers.
1:18:55 Serien-Ressort: Modern Family, Ted Lasso (Staffel 2), It's Always Sunny in Philadelphia, Veep und Who Are You, Charlie Brown?
1:31:43 Abspann