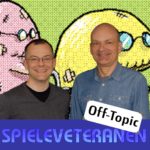 Spieleveteranen-Episode 13-2022 (#261)
Besetzung: Heinrich Lenhardt und Jörg Langer
Aufnahmedatum: 23.03.2022
Laufzeit: 1:37:54 Stunden
(0:00:15 News & Smalltalk – 0:55:17 Off-Topic)
Das ist eine zusätzliche Episode für unsere Patreon-Unterstützer ab der $5-Klasse. Hier erfahrt ihr, wie ihr das volle Programm hören könnt: https://www.patreon.com/spieleveteranen
Bevor wir zum monatlichen Ausflug in die Off-Topic-Gefilde aufbrechen, gibt es in spielerischer Hinsicht einiges zu berichten. Was erwarten die Spieleveteranen von der Rückkehr eines 70er-Jahre-Adventures, wie gefällt ihnen Tokio bei Nacht im neuen Gruselspiel Ghostwire Toyko? Nach der Beantwortung von Hörerpost geht's dann schnurstracks ins Serienressort. Da verbreitet eine neue Piratenkomödie gewisse Monkey-Island-Vibes, außerdem gibt es Updates zu mehr oder weniger gelungenen Staffeln alter Favoriten. Abgerundet wird das Kulturprogramm von ein paar Musik- und Filmtipps und einem Blick in die Autobiographie von Mel Brooks.
0:03:56 Gemischte News: Kolossales Adventure-Comback von Ken und Roberta Williams, 20 Jahre Kultboy.com, Spielegrafiker Celâl Kandemiroğlu ist verstorben, NFT-Erkenntnisse von der GDC.
0:29:51 Was haben wir zuletzt gespielt? Tunic, Salt and Sacrifice und Ghostwire Tokyo.
0:45:24 Hörerpost von David und Holger.
0:55:17 Spieleveteranen Off-Topic.
0:57:05 Serien-Ressort: Our Flag Means Death und Severance. Außerdem Staffel-Updates zu Upload, The Marvelous Mrs. Maisel, The Expanse, The Last Kingdom und The Snoopy Show.
1:12:50 Musik-Ressort: Hinweise auf neue Alben von Tears for Fears, Bryan Adams, Mike Campbell & The Dorty Knobs und Saxon.
1:15:38 Film-Ressort: The Last Duel und Copshop.
1:24:09 Buch-Ressort: All About Me! von Mel Brooks.
1:35:28 Abspann.