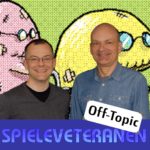 Spieleveteranen-Episode 13-2023 (#313)
Besetzung: Heinrich Lenhardt und Jörg Langer
Aufnahmedatum: 22.03.2023
Laufzeit: 1:49:25 Stunden
(0:00:15 News & Smalltalk – 0:48:04 Off-Topic)
Das ist eine zusätzliche Episode für unsere Patreon-Unterstützer ab der $5-Klasse. Hier erfahrt ihr, wie ihr das volle Programm hören könnt: https://www.patreon.com/spieleveteranen
Keine Woche für schwache Nerven: Während Jörg in der Beta von Diablo 4 fleißig Dämonenbrut totklickte, verbarrikadierte sich Heinrich beim Remake von Resident Evil 4. Nachdem die Branchen-News und Spielerfahrungen besprochen und die Hörerpost beantwortet wurde, widmen sich die Veteranen im Off-Topic-Bereich der bunten Welt der Unterhaltung abseits von Videospielen. Es erwarten euch zum Beispiel ein Spielestudio mit Beraterbedarf, eine ungewöhnliche Serienrolle für Harrison Ford und eine Kultfilm-Fortsetzung in Buchform. Die Würdigung des Staffelfinales einer gewissen Spieleadaption darf natürlich auch nicht fehlen.
00:00:15 News & Smalltalk
0:04:23 Gemischte News: Valve veröffentlicht noch dieses Jahr Counter-Strike 2, Bandai Namco teilt tödliche Elden-Ring-Statistiken, der Münchner Verein Videospielkultur (hier die Mini-Doku) sucht ein neues Zuhause, im eShop für 3DS und WiiU kommt es zu letzten Kaufräuschen, Atari sichert sich Berzerk und andere Retro-Marken.
0:22:26 Was haben wir zuletzt gespielt? Diablo 4 (Early-Access-Beta), Resident Evil 4.
0:26:09 Hörerpost von Nils Roos und Florian Zimmermann.
0:48:04 Spieleveteranen Off-Topic
0:48:13 Heinrichs Zeitumstellungs-Lifehack und ein Browserspiel zu einem Film, mit dem keiner gerechnet hat.
0:57:25 Serien-Ressort: The Last of Us, The Consultant, Shrinking, Fauda (Staffel 5), Im Auge des Wolfes (Staffel 2).
1:34:07 Musik-Ressort: Das Ende von Heinrichs Spotify-Boykott und Butch Walker as… Glenn.
1:41:23 Buch-Ressort: Heat 2 von Michael Mann und Meg Gardiner.
1:47:26 Abspann.