Podcast: Play in new window | Download (Duration: 1:38:45 — 90.7MB)
Subscribe: RSS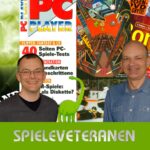 Spieleveteranen-Episode 36-2023 (#336)
Besetzung: Heinrich Lenhardt und Jörg Langer
Aufnahmedatum: 30.08.2023
Laufzeit: 1:38:44 Stunden
(0:00:15 News & Smalltalk – 0:36:49 Zeitschriften-Zeitreise)
Zu Beginn dieser Episode krallen wir uns mit ersten Starfield-Impressionen und anderen Spielberichten noch in der Gegenwart fest. Doch dann saugt uns die Spieleveteranen-Zeitmaschine in vergangene Jahrzehnte, wo wir beim andächtigen Blättern in Fachmagazinen an die damaligen Aufreger erinnert werden. Zum Beispiel veröffentlichten die Macher von Baldur's Gate 3 2013 ein ungewöhnliches Strategiespiel, Lara Croft stürzte 2003 im Dunkeln ab und sowohl Rollenspieler als auch Eishockey-Fans hatten 1993 Grund zum Jubeln. Im Bonus-Segment für Patreon-Unterstützer gibt es ein Spieleveteranen-Flashback mit kommentierten Clips: Was hatte unsere große Runde 2013 nach dem Ende der Sommerpause zu berichten?
Unterstützt die Spieleveteranen und hört doppelt so viele Episoden: https://www.patreon.com/spieleveteranen
0:00:15 News & Smalltalk
0:03:24 Gemischte News: Die Gamescom zieht 2023-Bilanz, das deutsche Studio Mimimi Games macht dicht, die spielbare Karateka-Dokumentation tritt an.
0:14:31 Was haben wir zuletzt gespielt? Sea of Stars, Starfield, Wrestle Quest.
0:30:55 Hörerpost von Andreas Wanda.
0:36:49 Zeitschriften-Zeitreise: August 2013, 2003, 1993
0:37:34 Gamestar 9/2013 und GamersGlobal, u.a. mit Dragon Commander, Civilization 5: Brave New World und Rogue Legacy.
0:54:12 GameStar 9/2003, u.a. mit Counter-Strike: Condition Zero, Tomb Raider 6: Angel of Darkness und neumodischen Handy-Spielen.
1:09:48 PC Player 9/1993, u.a. mit NHL Hockey, Lands of Lore, Betrayal at Krondor und einem vermissten Mario.
1:36:18 Abspann.