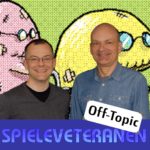 Spieleveteranen-Episode 35-2023 (#335)
Besetzung: Heinrich Lenhardt und Jörg Langer
Aufnahmedatum: 23.08.2023
Laufzeit: 1:40:59 Stunden
(0:00:15 News & Smalltalk – 0:44:50 Off-Topic)
Das ist eine zusätzliche Episode für unsere Patreon-Unterstützer ab der $5-Klasse. Hier erfahrt ihr, wie ihr das volle Programm hören könnt: https://www.patreon.com/spieleveteranen
Die Gamescom bescherte uns eine ansehnliche Menge an Veteranen-würdigen Meldungen, vom Remaster eines einst indizierten Star-Wars-Shooters bis zur Wiederauferstehung eines unverwüstlichen Konsolenopas. Nach News, Spielberichten und Hörerpost geht es dann in die Off-Topic-Gefilde, wo wir uns nach einem Hardware-Upgrade-Erfahrungsaustausch den gewohnten Kulturressorts widmen. Dabei besprechen wir zum Beispiel eine Hälfte des Barbenheimer-Kinogroßereignisses und klären anhand zweier aktueller Serien, ob Star Wars oder Star Trek die Streaming-Galaxis beherrscht.
0:00:15 News & Smalltalk
0:05:58 Gemischte News: Remaster-Updates zu Dark Forces, Baphomets Fluch und Stronghold, Cyberpunkt 2077 wird mit Patch 2.0 aufgefrischt, das Atari 2600+ ist die neueste Altkonsole, Sonys PS5-Streaminggerät hat Namen und Preis, Mario-Stimme Charles Martinet geht in den Ruhestand.
0:32:32 Starfield (über das man aber noch nicht reden darf) und The Wandering Village.
0:39:39 Hörer-Feedback zu Episode 334 von Moritz, Sandro, Jumper und Jonathan.
0:44:50 Spieleveteranen Off-Topic
0:57:21 Serien-Ressort: »Star Wars: Ahsoka« (Staffel 1), »Star Trek: Strange New Worlds« (Staffel 2).
1:18:59 Buch-Ressort: »The Urth of the New Sun« von Gene Wolfe, »Happy-Go-Lucky« (dt.: »Bitte lächeln!«) von David Sedaris.
1:27:03 Film-Ressort: »Oppenheimer«, »Guardians of the Galaxy Vol. 3«.
1:34:25 Musik-Ressort: Die Dokumentation »Once Were Brothers« dreht sich um die Geschichte von The Band.
1:38:32 Abspann.