Podcast: Play in new window | Download (Duration: 1:37:19 — 89.4MB)
Subscribe: RSS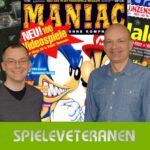 Spieleveteranen-Episode 43-2023 (#343)
Besetzung: Heinrich Lenhardt und Jörg Langer begrüßen Gastveteran Oliver Schultes
Aufnahmedatum: 19.10.2023
Laufzeit: 1:37:18 Stunden
(0:00:15 News & Smalltalk – 0:30:09 Zeitschriften-Zeitreise)
Ein Videospielemagazin eines unabhängigen Verlags trotzt seit 30 Jahren allen Umwälzungen der Medienlandschaft: Mit Ausgabe 11/1993 begann die Ära der Maniac, die man heutzutage unter dem Namen M! Games an den Kiosken findet. Seit rund 20 dieser 30 Jahre ist Oliver Schultes Chefredakteur, der sich als Stargast in unsere Zeitmaschine zwängt, um über das aktuelle Jubiläumsheft und die historische Erstausgabe zu plaudern. Weitere Stationen der Magazin-Zeitreise sind die Jahre 2003 (PC-Halo, Xbox-Kotor) und 2013 (kleine Indie-Perlen, großes GTA-Geschoss). Im Bonus-Segment für Patreon-Unterstützer drehen wir eine 1993-Ehrenrunde und blättern in der 30 Jahre PC Player, in deren Mittelpunkt ein Weltraumspiel stand, bei dem Origin Wing Commander-Tugenden mit Handel und Erkundungsfreiheit kombinierte.
Unterstützt die Spieleveteranen und hört das volle Programm:
https://www.patreon.com/spieleveteranen
0:00:15 News & Smalltalk
0:02:18 Gemischte News: Microsoft kann endlich Activision-Blizzard-King verdauen, Minecraft verkauft sich über 300 Millionen Mal, Analogue kündigt eine N64-kompatible Konsole an, ein Speedrunner kommt auf den Hund.
0:14:57 Was haben wir zuletzt gespielt? Super Mario Bros. Wonder, Spider-Man 2.
0:27:19 Hörerpost von Jumper und ein Platin-Update von Roland Austinat.
0:30:09 Zeitschriften-Zeitreise: Oktober 2013, 2003, 1993
0:30:14 Wir begrüßen Gaststar Oliver Schultes, Chefredakteur von M! Games alias Maniac. Zum 30. Geburtstag des Magazins blättern wir sowohl im aktuellen Jubiläumsheft als auch der Erstausgabe Maniac 11/1993, u.a. mit FIFA Soccer und Super Mario All-Stars.
1:00:37 GameStar 11/2003, u.a. mit Halo, Empires, Homeworld 2 und Knights of the Old Republic.
1:17:51 GamersGlobal und GameStar 11/2013, u.a. mit Goodbye Deponia, Beyond: Two Souls, Papers Please und Grand Theft Auto 5.
1:34:49 Abspann.