Podcast: Play in new window | Download (Duration: 1:54:15 — 104.9MB)
Subscribe: RSS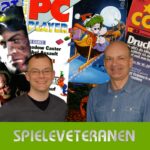 Spieleveteranen-Episode #346 (47-2023)
Besetzung: Heinrich Lenhardt und Jörg Langer
Aufnahmedatum: 14.11.2023
Laufzeit: 1:54:15 Stunden
(0:00:15 News & Smalltalk – 0:36:59 Zeitschriften-Zeitreise)
Der Koffer ist gepackt und die Zeitmaschine betankt: Nach News und aktuellen Spielberichten steht die monatliche Exkursion in die Vergangenheit an. Wir blättern in den Fachmagazinen von damals nach, welche Spielethemen uns vor 10, 20 und 30 Jahren bewegten. Zum Beispiel erinnern wir uns an den Launch der Playstation 4 und Assassinen unter schwarzer Flagge (2013), lernen eine alte Star-Wars-Republik und Sam Fischers Kosmetikkniffe kennen (2003), begegnen einem Elite-Absturz und weihnachtlichen Lemmingen wieder (1993). Im Bonus-Segment für Patreon-Unterstützer wagen wir uns sogar 40 Jahre zurück und studieren die Ausgaben 12/1983 von TeleMatch und Happy-Computer, wo der Decathlon-Schweiß floss und Flippertische konstruiert wurden.
Unterstützt die Spieleveteranen und hört das volle Programm: https://www.patreon.com/spieleveteranen
0:00:15 News & Smalltalk
0:01:56 Gemischte News: Steam Deck mit OLED erschienen, Anniversary Edition von Braid angekündigt, Samwise Didier von Blizzard geht in den Ruhestand, Fan-Remake von Dungeon Keeper erreicht Version 1.0, Print-Ausgabe von GamePro wird eingestellt.
0:15:08 Spieleveteranen intern: Updates zur deutschen Retro Gamer, Pixelkino, Japan-Doku und unserer Dezember-Programmplanung.
0:24:40 Was haben wir zuletzt gespielt? The 7th Guest VR, Dungeons 4.
0:35:20 Hörerpost von Pat.
0:36:59 Zeitschriften-Zeitreise: November 2013, 2003, 1993
0:37:31 GamersGlobal, u.a. mit dem PS4-Launch, Assassin's Creed 4: Black Flag, Battle Worlds: Kronos und Zelda: A Link Between Worlds.
0:55:36 GameStar 12/2003, u.a. mit Splinter Cell 2, Knights of the Old Republic, Call of Duty und Der Herr der Ringe.
1:26:27 PC Player 12/1993, u.a. mit Shadow Caster, Xmas Lemmings, Anstoss, Frontier – Elite II und Master of Orion.
1:51:48 Abspann.