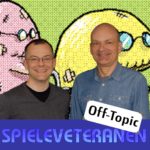 In diesem Sonderformat des Spieleveteranen-Podcasts plaudern Heinrich und Jörg über so ziemlich alles, was sie (außer Spielen) bewegt. Neue Off-Topic-Episoden werden exklusiv im Feed für Patreon-Unterstützer veröffentlicht. Schon mit $1 im Monat ist man dabei: Auf https://www.patreon.com/spieleveteranen findet ihr alle Vorteile.
Besetzung: Heinrich Lenhardt und Jörg Langer
Aufnahmedatum: 4.3.2019
Laufzeit: 54:10 Minuten
00:13 Vom Framing zu Maibäumen.
11:28 Film-/Serien-Ressort: The Umbrella Academy, The Expanse, Suburra, Russian Doll.
32:47 Podcast-Ressort: Christian Genzels Lichtspielplatz-Podcast behandelt den 1983-Film WarGames.
36:55 Buch-Ressort: Perry Rhodan Nr. 3000 ist (relativ) Wiedereinsteiger-freundlich.
40:49 Bühnen-Resort: Jörg musste durfte zum Ballett (und hat nur einmal an der falschen Stelle geklatscht).
46:19 Musik-Resort: Heinrich sagt was zu Said the Whale und sucht beim neuen Album von Bryan Adams nach positiven Aspekten.