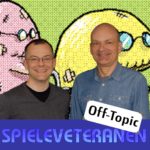 In diesem Sonderformat des Spieleveteranen-Podcasts plaudern Heinrich und Jörg über so ziemlich alles, was sie (außer Spielen) bewegt. Neue Off-Topic-Episoden werden exklusiv im Feed für Patreon-Unterstützer veröffentlicht. Schon mit $1 im Monat ist man dabei; auf https://www.patreon.com/spieleveteranen findet ihr alle Vorteile.
Besetzung: Heinrich Lenhardt und Jörg Langer
Aufnahmedatum: 29.8.2019
Laufzeit: 1:02:34 Stunden
00:11 Knurrt der Motor, weiß ich, dass ich schreien muss: Tipps zu Bärenwanderungen und Kfz-Reparaturen.
18:49 Musik-Ressort: Caretakers von Pete Yorn und Indiscreet von FM.
23:31 Buch-Ressort: "2" von Hideo Yokoyama und One Wrong Turn (dt.: Liebesdienste) von Kate Atkinson.
31:34 Bühnen-Ressort: Fringe-Festival in Victoria inklusive How to be German.
37:57 Film-/Serien-Ressort: Green Frontier (Frontera Verde), The Terror, Dark und Der nackte Regisseur.