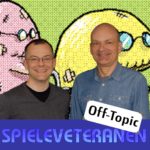 In diesem Sonderformat des Spieleveteranen-Podcasts plaudern Heinrich und Jörg über so ziemlich alles, was sie (außer Spielen) bewegt. Neue Off-Topic-Episoden werden exklusiv im Feed für Patreon-Unterstützer veröffentlicht. Schon mit $1 im Monat ist man dabei, auf https://www.patreon.com/spieleveteranen findet ihr alle Vorteile.
Besetzung: Heinrich Lenhardt und Jörg Langer
Aufnahmedatum: 7.1.2020
Laufzeit: 1:02:18 Stunden
00:11 Ein neues Jahr mit Tee und Philatelie – aber wo bleiben die Spiele-Sondermarken der Deutschen Post?
16:00 Buch- und Musik-Ressort: Die Autobiographie Not dead yet (dt.: »Da kommt noch was«) von Phil Collins.
27:37 Film-Ressort: Star Wars: The Rise of Skywalker (ohne Spoiler) und Bad Times at the El Royale.
35:43 Serien-Ressort: Watchmen, Russian Affairs und The Witcher.