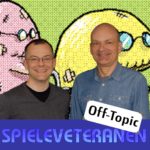 In diesem Sonderformat des Spieleveteranen-Podcasts plaudern Heinrich und Jörg über so ziemlich alles, was sie (außer Spielen) bewegt. Neue Off-Topic-Episoden werden exklusiv im Feed für Patreon-Unterstützer veröffentlicht. Schon mit $1 im Monat ist man dabei, auf https://www.patreon.com/spieleveteranen findet ihr alle Vorteile.
Besetzung: Heinrich Lenhardt und Jörg Langer
Aufnahmedatum: 9.3.2020
Laufzeit: 54:41 Minuten
00:11 Heinrich hat in British-Columbia schon Sommerzeit, Jörg verhandelt noch mit dem Freistaat Bayern bezüglich einer Reform. Gemeinsam freuen sie sich auf die angekündigte The Last of Us-Serie.
07:58 Buch-Ressort: Station Eleven (Das Licht der letzten Tage) von Emily St. John Mandel. Bei den Musiker-Biografien hat Heinrich Pete Townshend beendet und Me ("Ich") von Elton John angefangen. Jörg empfiehlt Inside Out von Nick Mason.
15:43 Musik-Ressort: Weather von Huey Lewis & the News, Moving Walls von Matthew Good und It's good to be here von Russ Ballard (hier übrigens der angesprochene Frida-Song: https://youtu.be/p98PjtSfNWo).
22:34 Film-Ressort: Keiner traute sich in den Sonic-Film, dafür gibt's kurze Betrachtungen zu The Homesman und Rocketman.
28:11 Serien-Ressort: Mythic Quest, Altered Carbon, Locke & Key, I'm not okay with this.
51:47 Zum Abschluss ein kurzer Blick auf den nächsten Podcast.