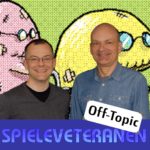 Das ist eine zusätzliche Episode für unsere Patreon-Unterstützer ab der $5-Klasse. Unter https://www.patreon.com/spieleveteranen erfahrt ihr, wie ihr das volle Programm hören könnt.
Der monatliche Off-Topic-Podcast ist jetzt in den neuen Spieleveteranen-Wochenrhythmus integriert. Bevor wir über die Serien, Bücher und Musik plaudern, die uns zuletzt beschäftigt haben, ist eine Runde Spiele-Smalltalk angesagt. Wir diskutieren einige News-Meldungen, so gibt es etwas von der nächsten Xbox zu hören und Microprose meldet sich mit drei Produktankündigungen zurück. Außerdem berichten wir darüber, was in der letzten Woche so alles gespielt wurde.
Spieleveteranen-Episode 18-2020 (#167)
Besetzung: Heinrich Lenhardt und Jörg Langer
Aufnahmedatum: 6.5.2020
Laufzeit: 1:28:58 Stunden
0:00:15 Smalltalk
0:00:24 Gemischte News: Die neue Xbox macht Geräusche, Assassin's Creed macht die Wikinger offiziell, der neue Eigentümer der Microprose-Marke kündigt drei Spiele an, THQ Nordic und Koch Media tauschen Serienrechte aus.
0:13:30 Was haben wir zuletzt gespielt? Mount & Blade 2 – Bannerlord, Gears Tactics, SNK 40th Anniversary Collection.
0:30:30 Off-Topic
0:30:41 Abenteuer bei der Haarpflege und Krisenlockerungsübungen.
0:45:05 Film-Ressort: Ein geplanter Film über eSport-Senioren weckt Casting-Hoffnungen.
0:50:03 Buch-Ressort: Altered Carbon von Richard Morgan und Woody Allens Autobiographie Apropos of Nothing (dt.: »Ganz nebenbei«).
0:57:25 Serien-Ressort: Bosch, Servant, Upload, Ghost in the Shell: SAC 2045, Shogun und The Orville.
1:21:10 Musik-Ressort: Hermitage von Ron Sexsmith, Slow Train Coming von Bob Dylan und ein paar Single-Tipps (Kansas, Killers, FM).
1:27:52 Abspann