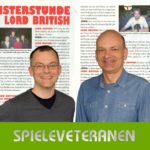 Das ist eine zusätzliche Episode für unsere Patreon-Unterstützer ab der $5-Klasse. Unter https://www.patreon.com/spieleveteranen erfahrt ihr, wie ihr das volle Programm hören könnt.
Die bange Frage »Wann gibt's endlich wieder Hörerfragen?« ist hiermit beantwortet: In dieser Episode beginnt die Bearbeitung der reichen Ernte unseres Sommer-Frageaufrufs. Mit Anatol Locker haben wir einen Spieleveteranen der ersten Stunde als tatkräftigen Erntehelfer dabei (der auch einen Podcast-Seitensprung beichtet). Da wir bei den Antworten etwas ins Plaudern gekommen sind, werden die noch offenen Fragen auf spätere Episoden verteilt. Fraglos erfolgreich ist die Kickstarter-Kampagne eines inoffiziellen Suikoden-Erben, den wir im News-Segment ansprechen. Außerdem gibt es wie immer Einblicke in unsere aktuellen Spielegewohnheiten.
Spieleveteranen-Episode 31-2020 (#179)
Besetzung: Heinrich Lenhardt und Jörg Langer begrüßen Gastveteran Anatol Locker.
Aufnahmedatum: 29.07.2020
Laufzeit: 1:36:46 Stunden
0:00:15 News & Smalltalk
0:00:46 Wir begrüßen Gastveteran Anatol Locker und werfen einen Blick auf das heutige Programm.
0:13:28 Was haben wir zuletzt gespielt? Paper Mario – The Origami King, The Last of Us 2, Sniper Elite 4, Carrion und Grounded.
0:27:50 Gemischte News: Eiyuden Chronicle appelliert an Suikoden-Fans, Ubisoft mochte Mike Laidlaws König Arthus nicht, ein gigantisches Nintendo-Leak wird durchforstet.
0:40:49 Hörer fragen, Veteranen antworten
0:40:57 Bei den frischen Hörerfragen kommt das Veteranen-Trio wir ins Schwitzen und Plaudern. Los geht es mit Erinnerungen an einige denkwürdige Presse-Events.
0:55:21 Weiter geht es mit Wertungsdifferenzen und Entspannungsspiele. Wir verraten auch, welche Titel wir gerne nochmals neu erleben wollten und haben sogar Erziehungstipps für angehende Väter auf Lager.
1:35:40 Abspann