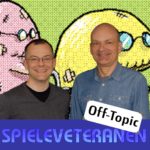 Das ist eine zusätzliche Episode für unsere Patreon-Unterstützer ab der $5-Klasse. Unter https://www.patreon.com/spieleveteranen erfahrt ihr, wie ihr das volle Programm hören könnt.
Zunächst sind wir ganz On-Topic und beschäftigen uns mit aktuellen spielerischen Ereignissen wie Impressionen von Assassin's Creed Valhalla oder Yakuza: Like a Dragon. Beim Video-Stream mit Ron Gilbert haben wir auch ein paar neue alte Geheimnisse von Monkey Island erfahren. Doch dann werden die Spiele (weitgehend) versteckt, denn die November-Ausgabe unserer Off-Topic-Revue steht an. An der politischen Front beschäftigt uns die Wahl des neuen Spieleveteranen-Präsidenten, bevor wir dann in die vergleichsweise friedlichen Kulturressorts wechseln.
Spieleveteranen-Episode 45-2020 (#189)
Besetzung: Heinrich Lenhardt und Jörg Langer
Aufnahmedatum: 4.11.2020
Laufzeit: 1:35:50 Stunden
0:00:15 Smalltalk
0:03:12 Heinrich berichtet vom Monkey-Island-Videostream mit Ron Gilbert, Jörg jongliert neue Konsolen.
0:12:38 Was haben wir zuletzt gespielt? Yakuza: Like a Dragon, Assassin's Creed Valhalla und Watch Dogs: Legion.
0:29:33 Gemischte News: Bei Dark Souls auf der PS5 sollen rund 180 »Game Help«-Videos helfen, Seamus Blackley plauderte für Edge aus dem Xbox-Nähkästchen.
0:35:32 Wir beantworten die Frage zum Tage von Andreas Wanda.
0:40:38 Off-Topic
0:40:47 Im November werden Stimmzettel gezählt und Vögel gefüttert. Netflix plant indes eine neue Assassin's-Creed-Serie.
1:00:08 Serien-Ressort: Barbaren, The Queen's Gambit, The Haunting of Bly Manor und Suburra.
1:19:17 Buch-Ressort: Eine Comic-Wiederentdeckung und der abschließende Buchreport zu »Not All Fairy Tales Have Happy Endings« von Ken Williams.
1:25:21 Lebenszeichen von AC/DC, »Letter to you« von Bruce Springsteen und »Earth to Dora« von den Eels.
1:30:00 Film-Ressort: Eine kurze Warnung vor »One Night in Bangkok« und eine kurze Würdigung von Sean Connery.
1:34:45 Abspann