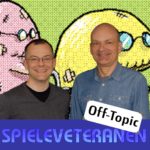 Das ist eine zusätzliche Episode für unsere Patreon-Unterstützer ab der $5-Klasse. Unter https://www.patreon.com/spieleveteranen erfahrt ihr, wie ihr das volle Programm hören könnt.
Die Spiele-Vergangenheit lässt uns auch in dieser Off-Topic-Folge nicht los. Schuld sind die Herrschaften von Blizzard, die das lange ersehnte Remake von Diablo 2 angekündigt haben. Weitere Veteranen-kompatible News und aktuelle Spielergebnisse stehen in der ersten Hälfte auf dem Programm. Danach schalten wir zu unseren monatlichen Betrachtungen des Kulturbetriebs um, diesmal mit einem Schwerpunkt auf Film und Fernsehen. Bei der Beurteilung einer neuen deutschen Serie geraten sich Jörg und Heinrich postapokalyptisch in die Haare.
Spieleveteranen-Episode 9-2021 (#205)
Besetzung: Heinrich Lenhardt und Jörg Langer
Aufnahmedatum: 24.02.2021
Laufzeit: 1:34:59 Stunden
0:00:15 News & Smalltalk
0:01:00 Das heutige Programm.
0:02:13 Gemischte News: Der BlizzConline-Videostream enthüllte u.a. die Blizzard Arcade Collection und Diablo 2 Resurrected. Vampire the Masquerade – Bloodlines 2 steckt dagegen in einer Entwicklerkrise. Sony plant neben Days Gone weitere PC-Umsetzungen.
0:31:13 Was haben wir zuletzt gespielt? Capcom Arcade Stadium, Ghosts'n Goblins Resurrection, Project Triangle Strategy (Demo) und Bravely Default 2.
0:48:16 Die Hörerfrage zum Tage stammt von Christian Kohlheim.
0:53:01 Off-Topic
0:53:09 Mythic Quest kehrt im Mai zurück, die geplante Frogger-Serie klingt weniger verheißungsvoll.
0:57:50 Film-/Serien-Ressort: Disenchantment Season 3, Scams, Lupin, Red Dot, Neues aus der Welt, Parks and Recreation, Veep und (seufz) Tribes of Europa.
1:25:41 Buch-Ressort: The Man who fell to Earth von Walter Tevis und die wilden frühen 70er bei der Perry-Rhodan-Chronik.
1:33:52 Abspann