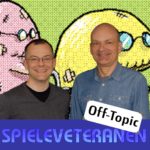 Das ist eine zusätzliche Episode für unsere Patreon-Unterstützer ab der $5-Klasse. Unter https://www.patreon.com/spieleveteranen erfahrt ihr, wie ihr das volle Programm hören könnt.
Die monatliche Themaverfehlung der Spieleveteranen lässt sich auch von Extremwetter nicht stoppen. Starkregen-Jörg und Hitzedom-Heinrich berichten, was sie in den letzten Wochen jenseits des Spielegeschehens beschäftigt hat. Das kulturelle Spektrum reicht vom Finale der zweiten Mythic-Quest-Staffel über ein Dune-Wiedersehen bis zum neuen Roman des »Marsianers« Andy Weir. Und was kommt eigentlich heraus, wenn sich ein Bosch-Noob und ein Bosch-Veteran austauschen? Vor unserem Ausflug in die Gefilde von Kunst und Kultur erwartet euch die bewährte Mischung aus aktuellen Spieleimpressionen, Branchen-News und Hörerpost.
Spieleveteranen-Episode 27-2021 (#223)
Besetzung: Heinrich Lenhardt und Jörg Langer.
Aufnahmedatum: 01.07.2021
Laufzeit: 1:38:09 Stunden
0:00:15 News & Smalltalk
0:01:22 Das heutige Programm.
0:01:43 Gemischte News: Update zum Remake von Master of Magic, Contra Returns auf Mobilgeräten samt kuriosem Trailer, noch mehr Echtzeitstrategie von Ex-Blizzard-Leuten, Final Fantasy Pixel Remaster erscheinen ab dem 28. Juli.
0:12:20 Was haben wir zuletzt gespielt? Elex 2 (Preview-Event), Mario Golf: Super Rush, Going Under.
0:29:51 Die Hörerfrage zum Tage von Erdingerrunner.
0:37:58 Off-Topic
0:38:07 Rekordtemperaturen in Kanada und Gewitterreigen in Deutschland – dabei beschäftigt sich Jörg mit der Radtour-Streckenplanung.
0:54:40 Buch-Ressort: Project Hail Mairy (dt. »Der Astronaut«) von Andy Weir, Dune (dt.: »Der Wüstenplanet«) von Frank Herbert.
1:09:21 Serien-Ressort: Mythic Quest (Staffel 2), Startup, Der nackte Regisseur (Staffel 2), Bosch (Staffel 7).
1:22:16 Musik-Ressort: This Is My Kingdom Now von Justin Currie, Crash Of The Crown von Styx.
1:25:21 Film-Ressort: A Family, Dune: Alternative Edition Redux.
1:36:53 Abspann