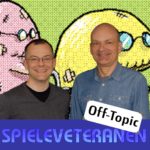 Das ist eine zusätzliche Episode für unsere Patreon-Unterstützer ab der $5-Klasse. Unter https://www.patreon.com/spieleveteranen erfahrt ihr, wie ihr das volle Programm hören könnt.
Die Spieleveteranen treten zwar nicht in Tokio bei den Olympischen Spielen an, doch sie haben sich ein sportliches Programm für diesen Off-Topic-Podcast vorgenommen, bei dem sie wie jeden Monat das gewohnte Parkett der Spieleberichterstattung verlassen. Stattdessen stemmen Heinrich und Jörg Themen wie das zauberhafte Musical Schmigadoon oder die hoffnungslosen Abgründe des mexikanischen Drogenkriegs in Somos. Ein Veteran hat großen Diskussionsbedarf zu einem Buchtipp aus dem letzten Monat, beim anderen stapeln sich die Platten, von denen er erzählen möchte. Doch bevor die beiden sich ausführlich über Kunst und Kultur ausbreiten, stehen aktuelle News, jüngste Spielerfahrungen und Hörerpost auf dem Programm.
Spieleveteranen-Episode 31-2021 (#227)
Besetzung: Heinrich Lenhardt und Jörg Langer.
Aufnahmedatum: 28.07.2021
Laufzeit: 1:39:20 Stunden
0:00:15 News & Smalltalk
0:01:51 Das heutige Programm.
0:04:35 Gemischte News: Videospielmusik bei der Olympia-Eröffnung in Tokio (wenn auch ohne Nintendo), EAs Horror-Actionspiel Dead Space erhält ein Remake, Dr. Mario World schließt bald die Praxis.
0:14:30 Was haben wir zuletzt gespielt? Ultima V, Star Dynasties, Doodle Champion Island Games, Horizon – Zero Dawn.
0:30:32 Die Hörerpost.
0:36:44 Off-Topic
0:36:52 Die Veteranen im August: Expeditionen in die Nachbarschaft, Exil im Hotelzimmer.
0:44:25 Serien-Resort: Somos, Schmigadoon!, El Chapo, Mare of Easttown, 1971.
1:11:08 Buch-Ressort: Project Hail Mary (dt. »Der Astronaut«) von Andy Weir, Washington Black von Esi Edugyan.
1:23:28 Musik-Ressort: Consequences von Joan Armatrading, Exit Wounds von The Wallflowers, Come Back To Life von The Zolas
1:28:04 Film-Ressort: Oxygen, Nomadland, Luca, The Tomorrow War.
1:38:14 Abspann