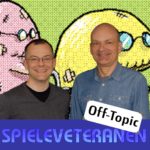 Das ist eine zusätzliche Episode für unsere Patreon-Unterstützer ab der $5-Klasse. Hier erfahrt ihr, wie ihr das volle Programm hören könnt: https://www.patreon.com/spieleveteranen
Es beginnt ganz harmlos wie ein normaler Spieleveteranen-Podcast: Gemischte News, frische Spieleimpressionen und ein Griff zum Hörerpost-Stapel. Doch dann geraten Jörg und Heinrich auf Abwege und landen im Gestrüpp der Off-Topic-Betrachtungen. Ganz ohne Spielebezug geht es natürlich nicht, denn es gibt eine erstaunlich gute Animationsserie aus dem League of Legends-Dunstkreis. Musik ist nicht nur bei der mit angehaltenem Atem erwarteten Abba-Analyse drin, Peter Jacksons Beatles-Dokumentation hat zumindest einen Veteranen beeindruckt. Außerdem verabschieden wir den alten Bond und fragen uns, was wir von der Fantasy-Serie The Wheel of Time halten sollen.
Spieleveteranen-Episode 49-2021 (#241)
Besetzung: Heinrich Lenhardt und Jörg Langer
Aufnahmedatum: 01.12.2021
Laufzeit: 1:35:47 Stunden
0:00:15 News & Smalltalk
0:00:50 Das heutige Programm.
0:02:35 Gemischte News: Reaktionen auf die Serien-Gerüchte rund um Mass Effect, Bethesda bleibt im neuen Starfield-Video vage, The Bard's Tale als interaktives Hörspiel, Microsofts scheußlich-schöner Minesweeper-Weihnachtspulli.
0:18:26 Was haben wir zuletzt gespielt? Total War – Warhammer: Mortal Empires und Resident Evil 8: Village.
0:30:29 Die Hörerfragen zum Tage von Matthias Peitz und Blacksun84
0:40:59 Off-Topic
0:41:59 Spieleveteranen intern: Kleiner Ausblick aufs Jahresendprogramm.
0:44:39 Musik-Ressort: Voyage von Abba und The Bridge von Sting.
0:49:21 Serien-Ressort: The Wheel of Time, Arcane, Foundation und The Beatles: Get Back.
1:20:01 Buch-Ressort: Crossroads von Jonathan Franzen.
1:24:39 Film-Ressort: James Bond – Keine Zeit zu sterben und Red Notice.
1:34:40 Abspann