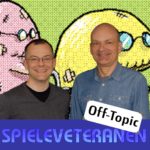 Spieleveteranen-Episode 35-2022 (#283)
Besetzung: Heinrich Lenhardt und Jörg Langer
Aufnahmedatum: 25.08.2022
Laufzeit: 1:43:44 Stunden
(0:00:15 News & Smalltalk – 0:52:05 Off-Topic)
Das ist eine zusätzliche Episode für unsere Patreon-Unterstützer ab der $5-Klasse. Hier erfahrt ihr, wie ihr das volle Programm hören könnt: https://www.patreon.com/spieleveteranen
Es dauert diesmal ein Weilchen, bis wir in den Off-Topic-Ressorts wandeln, denn die letzte Woche war reich an aktuellen Meldungen mit Retro-Bezug. Außerdem berichtet Jörg von seinen Gamescom-Abenteuern und Heinrich von seinem Raumschiffverschleiß mit dem jüngsten R-Type. Eine Hörerfrage später geht es dann aber los mit unseren Kulturtipps für den September. Mit dabei: feurige Drachen, gestresste Küchenchefs, harte Schweden, der Sandmann und ein überraschend gutes Prequel zu den Predator-Filmen.
0:00:15 News & Smalltalk
0:00:35 Gamescom-Heimkehrer Jörg berichtet von seinen Messe-Highlights.
0:19:44 Gemischte News: Die PS5 wird teurer, SpaceVenture und Return to Monkey Island erscheinen im September, Gobliiins 5 ist auf Kiiickstarter, die Embracer Group ging wieder einkaufen, Künstler Oliver Frey ist verstorben, das Mega Drive Mini 2 kommt am 27.09.
0:40:37 Was haben wir zuletzt gespielt? Cursed to Golf und R-Type Final 2.
0:46:39 Die Frage zum Tage von Andreas Wanda.
0:52:05 Spieleveteranen Off-Topic
0:52:53 Jörg hat noch immer keine Ahnung von Fußball, sehr zu Heinrichs Leidwesen. Driftende Joy-Cons machen die Situation nicht besser.
0:57:15 Serien-Ressort: House of the Dragon, The Sandman, The Bear, Bosch Legacy.
1:23:28 Buch-Ressort: Utopia Avenue von David Mitchell.
1:25:06 Musik-Ressort: Freedom und Evolution von Journey, Impera von Ghost.
1:29:13 Film-Ressort: Appunti di un Venditore di Donne, Uncharted, Prey.
1:41:17 Abspann.