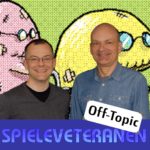 Spieleveteranen-Episode 9-2023 (#309)
Besetzung: Heinrich Lenhardt und Jörg Langer
Aufnahmedatum: 22.02.2023
Laufzeit: 1:41:45 Stunden
(0:00:15 News & Smalltalk – 0:40:34 Off-Topic)
Das ist eine zusätzliche Episode für unsere Patreon-Unterstützer ab der $5-Klasse. Hier erfahrt ihr, wie ihr das volle Programm hören könnt: https://www.patreon.com/spieleveteranen
Nach Meldungen zu großen Jubiläen und diabolischen Beta-Terminen kommen wir zu den wöchentlichen Spielberichten: Jörg versuchte sich mit simulierter Politik, während Heinrich bereits ein neues Mobil-Doom ausprobieren konnte (freut euch nicht zu früh). Dann haben wir aber genug gespielt, der Rest der Episode gehört dem Ausflug in die Off-Topic-Ressorts. Vor allem bei den Serien gibt es einiges zu berichten: In welcher Reihenfolge bekamen wir die Episoden von Kaleidoskop serviert? Wie zauberhaft ist die Serien-Adaption des Lucasfilm-Fantasyfilms Willow? Und welche Plattensammlungs-Stöbereien hatte die Begutachtung einer Bee-Gees-Dokumentation zur Folge?
00:00:15 News & Smalltalk
0:01:19 Gemischte News: Damalige Entwickler feiern den 30. Geburtstag von Star Fox, Firaxis arbeitet an Civilization VII und verabschiedet sich von XCOM-Neuerfinder Jake Solomon, Blizzard verkündet die Termine für die Open Beta von Diablo 4.
0:12:00 Was haben wir zuletzt gespielt? Mighty Doom, Suzerain, Tape to Tape (Demo).
0:29:09 Hörerpost von Florian Beyer und Andreas Wanda.
0:40:34 Spieleveteranen Off-Topic
0:40:42 Off-Topic-Smalltalk: Kalenderreform-Ideen und erstaunliche Sichtungen in freier Wildbahn.
0:50:08 Serien-Ressort: The Last of Us, Kaleidoskop, Cunk on Earth, Aggretsuko (Staffel 5), Willow, Teheran (Staffel 2).
1:20:24 Buch-Ressort: »Der Donnerstagsmordclub« von Richard Osman.
1:24:30 Film-und-Musik-Ressort: The Violence Action, Bushwick, The Bee Gees: How Can You Mend a Broken Heart – und dazu passend das 1983-Album How Old Are You von Robin Gibb.
1:39:19 Abspann.