Podcast: Play in new window | Download (Duration: 1:39:25 — 91.3MB)
Subscribe: RSS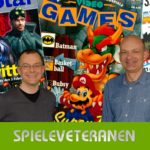 Spieleveteranen-Episode 10-2023 (#310)
Besetzung: Heinrich Lenhardt und Jörg Langer begrüßen Gastveteran Winnie Forster
Aufnahmedatum: 01.03.2023
Laufzeit: 1:39:24
(0:00:15 News & Smalltalk – 0:33:45 Zeitschriften-Zeitreise)
Je später die Vergangenheit, desto veteraniger die Gäste: Bei unserer Zeitschriften-Zeitreise begrüßen wir diesmal Gaststar Winnie Forster, der vor 30 Jahren die letzten Arbeitstage bei der Video Games verbrachte. Zahlreiche CD-ROM-Formate und Nintendos Super-FX-Chip machten damals Schlagzeilen. Auch die anderen Jahrzehnte haben es in sich: Vor 20 Jahren gab es bei GameStar das reinste Testgewitter und vor 10 Jahren gingen wir auf eine Höhlenwanderung à la Ron Gilbert. Im Bonus-Segment für Patreon-Unterstützer gibt es eine 1993-Zugabe, da blättern wir auch in der 30 Jahre alten PC Player. Zu Beginn der Episode bewegen sich die Spieleveteranen noch in der Gegenwart, los geht es wie immer mit News-Meldungen, aktuellen Spielberichten und Antworten auf Hörerfragen.
00:00:15 News & Smalltalk
0:02:16 Gemischte News: Shinji Mikami verlässt Tango Gameworks, Hogwarts Legacy verkauft sich prächtig, Elden Ring wird erweitert und sammelt weitere Auszeichnungen.
0:11:18 Was haben wir zuletzt gespielt? Hogwarts Legacy, Humanity (Demo), BattleTech (DLC).
0:21:15 Hörerpost von GMB.
0:33:45 Zeitschriften-Zeitreise: Februar 2013, 2003, 1993
0:35:41 Gamestar 3/2013 und GamersGlobal, u.a. mit Star Citizen, Dota 2, The Cave und Persona 4 Golden.
0:58:11 GameStar 3/2003, u.a. mit C&C Generals, Splinter Cell, Unreal 2 und The Sims Online.
1:10:45 Video Games 3/1993, u.a. mit Tiny Toons Adventures, Defender of Oasis und »Cyber-Media«-Aufbruchsstimmung.
1:36:59 Abspann.