Podcast: Play in new window | Download (Duration: 1:43:38 — 95.1MB)
Subscribe: RSS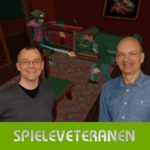 Spieleveteranen-Episode 16-2023 (#316)
Besetzung: Heinrich Lenhardt und Jörg Langer begrüßen Stargast Christian von Duisburg
Aufnahmedatum: 13.04.2023
Laufzeit: 1:43:37 Stunden
(0:00:15 News & Smalltalk – 0:59:32 Alone in the Dark)
Alleine würden sich die Spieleveteranen nicht in die gruseligste Immobilie des Jahres 1992 wagen, doch Beistand eilt knarzenden Schrittes dabei: Wir begrüßen Stargast Christian von Duisburg, der damals als Redakteur bei Power Play arbeitete und seitdem so einiges in der Spiele- und Medienbranche erlebt hat. Nach etwas Geplauder nehmen wir unseren ganzen Mut zusammen und kehren in Jeremy Hartwoods verwunschene Villa zurück. Alone in the Dark von Infogrames war eines der innovativsten Spiele seiner Zeit, das mit "realistischen" Polygon-Charakteren und ungewöhnlichen Kamerawinkel verblüffte. Wie wirken Kampfsystem und Rätsel aus heutiger Sicht, welche Erinnerungen haben wir an die Wirkung des Spiels damals? Bevor die Lichter ausgehen, widmen wir uns zu Beginn der Sendung aktuellen Meldungen, Spielberichten und Hörerfragen.
0:00:15 News & Smalltalk
0:02:26 Gemischte News: Mario-Musik fürs US-Archiv, Asus' ROG Ally als Steam-Deck-Konkurrent, neue Umsetzungen der Final Fantasy Pixel Remaster-Serie, Gerüchte um Fallout New Vegas 2 und ein Persona-3-Remake, Wartales und Everspace 2 entwachsen dem Early Access und Heinrich bittet zum Pixelkino-Podcast.
0:19:48 Was haben wir zuletzt gespielt? Advance Wars 1+2 Re-Boot Camp, Resident Evil 4 Remake, Persona 4 (Switch), Ghost of Tsushima (mit Jörgs Realwelt-Vergleich).
0:30:04 Hörerpost von Andreas.
0:38:44 Wir begrüßen Stargast Christian von Duisburg, der seine bewegte Laufbahn zusammenfasst – von Power Play über X-Base bis zu aktuellen Spielebranche–Aktivitäten.
0:59:32 Das alte Spiel: Alone in the Dark
0:59:52 Frédérick Raynal begann bereits 1990 mit der Programmierung eines innovativen Action-Adventures, das heute als Urvater des Survival-Horror-Genres gilt.
1:11:27 Die Hauserkundung ist mit Rätseln und Kämpfen verbunden, die auch ihre Tücken haben. Zum Glück dürfen wir jederzeit speichern.
1:17:47 Die Polygon-Charaktere waren 1992 eine Grafik-Sensation, auch die Soundkulisse trägt viel zur Gruselstimmung bei.
1:31:55 Der historische Pressespiegel.
1:41:06 Abspann.