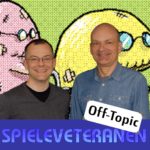 Spieleveteranen-Episode 17-2023 (#317)
Besetzung: Heinrich Lenhardt und Jörg Langer
Aufnahmedatum: 19.04.2023
Laufzeit: 1:45:06 Stunden
(0:00:15 News & Smalltalk – 0:44:28 Off-Topic)
Das ist eine zusätzliche Episode für unsere Patreon-Unterstützer ab der $5-Klasse. Hier erfahrt ihr, wie ihr das volle Programm hören könnt: https://www.patreon.com/spieleveteranen
Eine fremde Sprache zu beherrschen ist gar nicht so leicht, vor allem wenn es sich um Elbisch für eine Spielproduktion handelt. John Wick beherrscht dagegen die Sprache der Gewalt, wie er im nunmehr vierten Kinofilm der Reihe demonstriert. Der ist eines der zahlreichen Themen des monatlichen Off-Topic-Gesprächs von Jörg und Heinrich, doch auch eine Doku zu einer deutschen Sportlegende, einem unwilligen Urlauber, süße Stimmen zu harten Riffs und mehr werden vorgestellt. Nicht weniger spannend sind die Spielebranchen-News, Hörerfragen und jüngsten Games-Eindrücke, konnte doch Jörg bereits ausgiebig Jagged Alliance 3 spielen, während eine gewisse Neuerscheinung von Heinrich mit dem "Ich bin unwürdig!"-Siegel ge(t)adelt wird.
00:00:15 News & Smalltalk
0:02:45 Gemischte News: Daedalic bringt elbische Sprachausgabe für Gollum als Bezahl-DLC, Warner Brothers kündigt das Multiplayer-Spiel Quidditch Champions an, das Kurbel-Handheld Playdate übertrifft die Verkaufserwartungen.
0:11:22 Was haben wir zuletzt gespielt? Jagged Alliance 3 (Preview), Vampire Survivors: Tide of the Foscari, Renfield, Cyberpunk 2077 mit Path Tracing, Minecraft Legends.
0:33:43 Hörerpost von Thomas Ufer, Moe 90 und Saswalker.
0:44:28 Spieleveteranen Off-Topic
0:44:37 Von Grünkohl und Canabis bis zum Kino-Highscore für die Super Mario Bros.
0:57:40 Film-Ressort: John Wick 4, »Boom! Boom!: The World vs Boris Becker«.
1:20:14 Buch-Ressort: »Once Upon Atari« von Howard Scott Warshaw.
1:25:51 Serien-Ressort: Tead Lasso (Staffel 3), The Reluctant Traveller (dt. »Urlaub wider Willen«).
1:38:19 Musik-Ressort: »The Other One« von Babymetal.
1:42:40 Abspann.