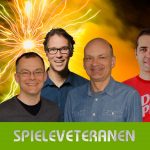 Spieleveteranen-Episode 1-2023 (#301)
Besetzung: Heinrich Lenhardt und Jörg Langer begrüßen die Gastveteranen Anatol Locker, Michael Hengst und Roland Austinat.
Aufnahmedatum: 21.12.2021
Laufzeit: 1:35:04 Stunden
Das ist eine zusätzliche Episode für unsere Patreon-Unterstützer ab der $5-Klasse. Hier erfahrt ihr, wie ihr das volle Programm hören könnt: https://www.patreon.com/spieleveteranen
Auf die Lieblingsspiele-Jahresendrunde folgt nun die Kür der Off-Topic-Favoriten 2022. Gleich fünf Veteranen treten an, um ihre Highlights in den Ressorts Serien, Musik, Bücher und Filme vorzustellen: Die Kulturkommission besteht aus Roland Austinat, Michael Hengst, Jörg Langer, Heinrich Lenhardt und Anatol Locker. Die Spieleveteranen bedanken sich für eure Treue und wünschen einen guten Rutsch und ein frohes neues Jahr!
0:00:15 Off-Topic-Highlights 2022
0:04:40 Das Serien-Ressort mit vielen Anseh-Tipps, darunter Andor (Michael), Cyberpunk: Edgerunners (Anatol), Magnum P.I. (Roland), House of the Dragon (Jörg), Severance (Heinrich).
0:35:07 Abteilung Musik: Wir hörten zum Beispiel Pyrolator: Niemandsland von Kurt Dahlke (Anatol), The Complete Life at the Lighthouse von Lee Morgan (Roland), Impera von Ghost (Heinrich).
0:48:14 Das Bücher-Segment: Zu den Schmöker-Empfehlungen gehören Inhibitor Phase von Alastair Reynolds (Jörg), Sound Man von Glyn Jones (Anatol), The Lincoln Lawyer von Michael Connelly (Michael), Tomorrow, and Tomorrow, and Tomorrow von Gabrielle Zevin (Heinrich).
1:05:27 Letzte Disziplin: Filme. Wir schauten unter anderem Bullet Train (Michael), Top Gun: Maverick (Jörg), Die Pusher-Trilogie (Anatol), diverse Bond-Oldies (Roland) und Elvis (Heinrich).
1:32:38 Abspann.