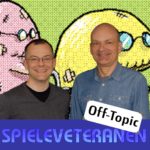 Spieleveteranen-Episode 49-2022 (#297)
Besetzung: Heinrich Lenhardt und Jörg Langer
Aufnahmedatum: 30.11.2022
Laufzeit: 1:33:35 Stunden
(0:00:15 News & Smalltalk – 0:47:52 Off-Topic)
Das ist eine zusätzliche Episode für unsere Patreon-Unterstützer ab der $5-Klasse. Hier erfahrt ihr, wie ihr das volle Programm hören könnt: https://www.patreon.com/spieleveteranen
Vor dem monatlichen Ausritt in die Off-Topic-Kulturressorts plaudern die Spieleveteranen über interessante und kuriose Branchen-Neuigkeiten, ihre jüngsten Spielerlebnisse und eure Hörerpost. Doch dann wird fleißig gestreamt, geblättert und gelauscht. Wir lernen eine walisische Fußballhochburg kennen, gehen mit Wednesday Addams zur Schule und feiern Weihnachten mit lustigen Marvel-Chaoten. Außerdem gibt es donnernde Japangitarren, unglückliche Geschehnisse in der kanadischen Wildnis und ein Wiedersehen mit schrulligen Videospiel-Entwicklern.
00:00:15 News & Smalltalk
0:03:04 Gemischte News: Eine neue Spielkonsole kommt vor für die Hunde, Bohemia Interactive warnt vor Videofakes mit Arma 3-Material, die Siedler wuseln im Februar wieder, Sam Fischer kehrt in Hörspielform zurück, der zweite Trailer zum Mario-Animationsfilm ist erschienen und das Remake von The Witcher wagt sich in eine offene Spielwelt.
0:19:07 Was haben wir zuletzt gespielt? God of War: Ragnarök, Northgard, Cult of the Lamb.
0:34:15 Hörerpost von Markus, Andreas Wanda und Johannes Lenzen.
0:44:21 Spieleveteranen Off-Topic
0:44:49 Serien-Ressort: Mythic Quest (Staffel 3), Wednesday, Barbaren (Staffel 2), Welcome to Wrexham.
1:09:08 Buch-Ressort: »Gewönne doch der Konjunktiv« vom kürzlich verstorbenen Wolf Schneider.
1:12:23 Film-Ressort: The Matrix Resurrections, Guardians of the Galaxy: Holiday Special, Elvis, Into the Forest.
1:23:40 Musik-Ressort: Monochrome (Single) von Babymetal, Asphalt Meadows von Death Cab For Cutie.
1:31:09 Abspann.